Archive for the 'Technology' Category
Will we ever be able to go off-grid again? What do we gain and lose if not? These questions came to mind as I was reading Anupam Chander's Electronic Silk Road. The book is excellent. Indeed, these questions and the rest of this post's ideas would not have come to mind had he not set out how the Electronic Silk Road operates and might operate. And my questions are perhaps prompted by a good book that addresses much and better still opens the doors to the next questions. Chander makes a strong case for benefits of a modern silk road where trust and trade work together and promote "net-work" which he defines as "information services delivered remotely through electronic communications systems." This two way world facilitates labor shifted to Asia but also Google and Facebook spanning the globe with their services. His plea for new laws to address this change in trade makes sense. Our world of goods is fading to a world of digital things. Yet I wonder whether this new rule of trade maps to all the wonders we may want.
There may be unintentional irony here. Chapter One epigraph quotes Keynes "What an extraordinary episode in the economic progress of man that age was which came to an end in August, 1914!" Does trade stop war or at least make countries less likely to war against each other? Maybe. To get there Chander points out that, "the characteristics that permit net-work trade might be deployed to create a robust infrastructure for such trade: real-time information transfer, low information and other transactions costs, the ability of individuals around the world to collaborate, and electronic identification." But the same systems that may promote trade can lead to greater surveillance and repression.
In other words, the recent spying amongst countries may be a good thing. I fear greater coordination amongst countries rather than friction. Chander calls this issue "Stalinization—the imposition of the world's most repressive rules on cyberspace, in aggregated form." He acknowledges this point at p. 197. Nonetheless this greater connection and improved grid may be inescapable. The idea that local laws must balance global over-reach does not appear to address what happens when the big boys agree. The electronic silk road thus seems to kill the romance of the silk road.
The Silk Road evokes adventure, the ability to test, change identities, and yet somehow trade worked. Failure on the Silk Road or even mistakes or cheating could be hidden by moving from the Road to some other country. In that sense, a modern system of trade on a global scale seems to defeat the room for play that Julie Cohen has described in Configuring the Networked Self. To where would one go to experiment, reinvent, and rehabilitate? Even with greater freedom to communicate things can go awry. A WTO response may be futile if all agree on bad behavior. Public shaming of corporations may mean little when they are forced to comply. To be clear, I agree with much of what Chander offers and have hope that the mitigation he offers will take it root. At bottom it may be a faith that discourse and debate defeats evil in all forms. Part of me thinks this idea is true. Part wonders whether we have come that far from the days leading up to World War I or II. If not, tighter understanding and trade may do less than both Chander and I hope. Then again Chander may be setting us up for the next step in his ideas. I certainly hope so.
October 30, 2013 at 1:52 am
Posted in: Intellectual Property, Political Economy, Privacy, Symposium (The Electronic Silk Road), Technology, Trade, Web 2.0
Print This Post
3 Comments
This week, a great group will be blogging about Professor Anupam Chander's book, The Electronic Silk Road: How the Web Binds the World Together in Commerce. Professor Chander is a leading scholar on globalization and digitization. He is Director of the California International Law Center and Martin Luther King, Jr. Hall Research Scholar at UC Davis. He has been a visiting professor at Yale Law School, the University of Chicago Law School, Stanford Law School, and Cornell Law School. He is also a dear friend. Nonetheless, it is time for us to do what we hope to do well, and if lucky, our friends do for us. That is, it is time to press Professor Chander about his work as it tries to show us how the new Silk Road operates, what it promises, what is yields, and what it threatens. Work and services are now blending, if not blended. Old rules for trade struggle to adapt to new rules for information. Where will we go from here? Join Professor Chander and our panelists including Paul Berman, Miriam Cherry, Graeme Dinwoodie, Nicklas Lundblad, Frank Pasquale, Pierluigi Perri, Adam Thierer, Haochen Sun, Fred Tung, and of course Danielle Citron and me for the fun this week.
October 28, 2013 at 6:12 am
Posted in: Intellectual Property, Political Economy, Privacy, Symposium (The Electronic Silk Road), Technology, Trade, Web 2.0
Print This Post
No Comments
Folks,
As you know Gerard and I have been working up our paper Patents, Meet Napster: 3D Printing and the Digitization of Things . It will be part of The Georgetown Law Journal Volume 102 Symposium: "Law in an Age of Disruptive Technology" which will take place on Friday November 8, 2013. There will be panels about driverless cars and mass surveillance as well. We hope to see many of you there. (RSVP at this link).
It is a great honor to be part of this lineup:
Keynote Address by Professor Neal Katyal

3-D Printing
Chaired by Professors Deven Desai and Gerard Magliocca

Driverless Cars & Tort Liability
Chaired by Professor Bryant Walker Smith

Mass Surveillance Technology
Chaired by Professor Christopher Slobogin
October 23, 2013 at 4:14 pm
Posted in: Innovation, Intellectual Property, Privacy, Privacy (Law Enforcement), Privacy (National Security), Technology, Web 2.0
Print This Post
No Comments
Think you have enough to read? Think again! I am honored to announce that Concurring Opinions will host a symposium on Orly Lobel's book, Talent Wants to be Free: Why We Should Learn to Love Leaks, Raids, and Free Riding. The event will run from Monday, November 11 to Friday, November 15. I came to know Professor Lobel's work as I shared some of my thoughts on intellectual property, property theory, and technologically mediated creation in her seminar, Work, Welfare, and Justice, in 2008. I was thinking about who owns your email? What about work place creation? Who owns what you come up with at work? Does it matter whether you used company technology to create and learn? Professor Lobel was digging into related questions, and it has been a blast seeing her run with them. Now we have the pleasure of her book. The accolades have been coming in from academics in law and other fields as well as the business world. Business Week, Fortune, and Harvard Business Review have run articles by Professor Lobel that draw on the insights from the book.
Professor Lobel argues that as we move deeper into a world driven by human capital and talent is in increasing demand, we have to understand that a lock-down approach to innovation is a losing strategy. Nonetheless:
Many companies embrace a control mentality—relying more on patents, copyright, branding, espionage, and aggressive restrictions of their own talent and secrets than on creative energies that are waiting to be unleashed.
Unlocking talent, setting it free as she puts it, sets up a system where everyone wins. Will our discussants or you agree? I think so, but I am sure there will be new ideas and challenges during the event. Our panelists include Professor Lobel as well as:
October 23, 2013 at 4:06 pm
Posted in: Behavioral Law and Economics, Intellectual Property, Political Economy, Property Law, Symposium (Talent Wants to be Free), Technology, Trade
Print This Post
No Comments
In a world where attacks on inquiry are all too common, it's nice to see great research recognized. The Golden Goose Awards are a forum for such encomia, focusing on federally funded research:
The purpose of the Golden Goose Award is to demonstrate the human and economic benefits of federally funded research by highlighting examples of seemingly obscure or unusual studies that have led to major breakthroughs and have had a significant impact on society. Such breakthroughs may include development of life-saving medicines and treatments; game-changing social and behavioral insights; and major technological advances related to national security, energy, the environment, communications, and public health.
October 22, 2013 at 7:59 pm
Posted in: Political Economy, Technology
Print This Post
No Comments
Danielle and I are happy to announce that next week, Concurring Opinions will host an online symposium on Professor Anupam Chander's The Electronic Silk Road: How the Web Binds the World Together in Commerce. Professor Chander is a professor at U.C. Davis's King Hall School of Law. Senators, academics, trade representatives, and pundits laud the book for its clarity and the argument Professor Chander makes. He examines how the law can facilitate commerce by reducing trade barriers but argues that consumer interests need not be sacrificed:
On the ancient Silk Road, treasure-laden caravans made their arduous way through deserts and mountain passes, establishing trade between Asia and the civilizations of Europe and the Mediterranean. Today's electronic Silk Roads ferry information across continents, enabling individuals and corporations anywhere to provide or receive services without obtaining a visa. But the legal infrastructure for such trade is yet rudimentary and uncertain. If an event in cyberspace occurs at once everywhere and nowhere, what law applies? How can consumers be protected when engaging with companies across the world?
But will the book hold up under our panel's scrutiny? I think so but only after some probing and dialogue.
Our Panelists include Professor Chander as well as:
And of course
Danielle Citron and I will be there too.
October 21, 2013 at 3:40 pm
Posted in: Cyberlaw, DRM, Innovation, Intellectual Property, Political Economy, Privacy, Symposium (The Electronic Silk Road), Technology, Trade, Web 2.0
Print This Post
One Comment
As Gerard noted, we have posted our draft of our paper "Patents, Meet Napster: 3D Printing and the Digitization of Things. The area is much fun. Along the way, claims about maybe possible became, oh they're doing that? OK. Fix the draft and cite. Guns, compounding chemicals, low-temperature metals, oh my. The technology has moved and continues to move in many different ways. The paper has some doctrine, some science and technology studies, and some just plain old wow that's wild technology. We are excited for the symposium at Georgetown, and we have time to edit and develop. We would love feedback about the legal implications and the technology.
Here's the abstract perhaps to whet your appetite:
Abstract:
Digitization has reached things. This shift promises to alter the business and legal landscape for a range of industries. Digitization has already disrupted copyright-based industries and laws. As cost barriers dropped, individuals engaged with copyrighted work as never before. The business-to-business models of industrial copyright faltered and in some cases failed. Industries had to reorganize, and claimed foundations for copyright had to be re-examined. This Article examines a prime example the next phase of digitization: 3D printing and it implications on intellectual property law and practice.
3D printing is a general-purpose technology that will do for physical objects what MP3 files did for music. The core patent bargain—sharing the plans on how to make something in exchange for exclusivity—may be meaningless in a world of digitized things. While these devices will unleash the creativity of producers and reduce costs for consumers, they will also make it far easier to infringe patents, copyrights, and trade dress. This will force firms to rethink their business practices and courts to reexamine not only patent doctrine but also long established doctrine in areas ranging from copyright merger to trademark post-sale confusion. Moreover, Congress will need to consider establishing some sort of infringement exemption for 3D printing in the home and expanding the notice-and takedown provisions of the Digital Millennium Copyright Act to websites that host software enabling the 3D printing of patented items and distinctive trade dress. While a 3D printer is not yet a common household item, the time to start thinking about that future is now.
October 10, 2013 at 4:51 pm
Posted in: DRM, Intellectual Property, Technology
Print This Post
No Comments
As I work away on 3D printing I am looking at regulation literature. Ayres and Braithwaite's Responsive Regulation is available on Amazon for 34.99 for Kindle or you can rent it starting at $14.73 (no kidding, it is that precise). There is a calendar and you can select the length of the rental (3 months comes out to $22.30 and to Amazon's credit hover over a date and the price appears rather than having to click each date). On the one hand this offering seems rather nifty. Yet I wonder what arguments about market availability and fair use will be made with this sort of rental model for books in play. And this option brings us one step closer to perfect price discrimination. Would I see the same rental price as someone else? Would I need some research assistant to rent for me? Would that person's price model be forever altered based on some brief period of working for a professor? What about librarians who rent books for work (I suppose work accounts would be differentiated but the overlap between interests may shift what that person sees on a personal account too). Perhaps Ayres and Braithwaite's regulation pyramid is needed yet again.
October 4, 2013 at 7:40 pm
Posted in: Behavioral Law and Economics, Cyberlaw, DRM, Intellectual Property, Technology, Web 2.0
Print This Post
No Comments
I'm writing this from an airplane somewhere over the US-Canadian border. I forgot my copy of Coding Freedom at home, and was cursing my ineptitude. But then it occurred to me that, given the subject, I could probably find a copy online. Sure enough, I downloaded a pdf via the airport wifi. (For free! – those Canadians…).
This, in the most mundane of ways, is a simple reenactment of what Gabriella Coleman writes of so compellingly in her new book. Gabriella, inspired no doubt in part by her years of exposure to hacking culture, struck a deal with her publishers. The resulting CC license gives all of us who might want to read the book more freedom to do what we want with it – read it on any device, search it, and even pull it up in an airport so we can file a nearly-too-late contribution to a terrific online discussion. Gabriella didn't know I'd forget my book at home when she decided to negotiate the license. But she did have the sense – I assume – that she needed something more than copyright law to help her achieve what she wanted from her book. Which was in part to give to the rest of us more freedom than standard copyright law would allow.
But how far does that freedom go? This is surely one of the most important and interesting questions about this new form of making software, and the new legal forms that attend it. So that's what I want to focus on here. One of the book's great strengths is the spectacularly detailed and clear-eyed account that it provides of hacker culture, or at least a certain hacker culture. As it points out, this is a culture that is built upon a deep commitment to the pleasures of technology (like Ed Felten, I loved the bit on hacker humor), a ferocious conception of self-help and meritocratic ordering, and also to an overt aversion to things "political."
As a few others have in the course of this discussion, I wonder too about the limits of a form of practical revolution that starts here. How far can this new mode of production take us, if it is characterized by technoelitism, an aversion to politics, and by a subject position that is decidedly fairly privileged and high-skilled? After all, you can't be part of this crowd and lack access to a computer and internet connection, or be bereft of free time.
September 20, 2013 at 9:55 pm
Tags: Coding Freedom, Hacking, innovation, Production Posted in: Innovation, Intellectual Property, Symposium (Coding Freedom), Technology, Uncategorized
Print This Post
No Comments
I recently read a trilogy of books addressing the politics of "coding." Recoding Gender: Women's Changing Participation in Computing, by historian of technology Janet Abbate, describes the gender transformation from the prominent presence of women programmers in early computer history to the more contemporary cultural stereotype of men as computer geeks. Black Code: Inside the Battle for Cyberspace, by University of Toronto Professor Ron Deibert of the Citizen Lab, examines types of coding by hackers, governments, and corporations alike designed to restrict freedom and enact surveillance, whether as part of new business models, political suppression, or national security tactics. Coding Freedom: The Ethics and Aesthetics of Hacking, by McGill Professor and digital activism anthropologist Gabriella Coleman, explores the culture of certain types of hacking as a form of engaged citizenship promoting both the freedom to communicate and the freedom to innovate.
How are we to resolve the cognitive dissonance of such disparate representations of the politics of coding: as reflecting broader gender struggles; as mechanisms of control and repression; and as culturally and ethically promoting freedom? These accounts actually share a conceptual framework suggesting that software code, like other arrangements of technology, are also arrangements of power. Coding is historically specific and culturally contextual, reflecting broader social tensions and embedding decisions that have implications for individual civil liberties, social arrangements, and global economic conditions.
Long before Google, Facebook, Anonymous, or even the World Wide Web, Langdon Winner wrote "At issue is the claim that the machines, structures, and systems of modern material culture can be accurately judged not only for their contributions to efficiency and productivity and their positive and negative environmental side effects, but also for the ways in which they can embody specific forms of power and authority." (From "Do Artifacts Have Politics?") In this sense, technical design in the modern digital media context is a form of political engagement, but a form enacted primarily by the private sector, private citizens, or new global institutional forms. The salient question then becomes – what are the characteristics of technical design and production that imbue these practices with the legitimacy to enact such public interest effects and ultimately promote democratic conditions of communicative and economic freedom. Gabriella Coleman's Coding Freedom makes a significant intellectual contribution in answering this question, backed up by meticulous research and a sophisticated understanding of political thought across history, cultures, and academic disciplines.
The term "hacking" is obviously malleable. As a scholar of Internet governance, the first issues that jump to my mind include practices such as regular attacks on the Internet's Domain Name System; the Stuxnet worm sabotaging the control systems of Iranian nuclear centrifuges; infiltration and theft of corporate property; worms that exploit protocol vulnerabilities to disable systems; and the increasing governmental use of distributed denial of service (DDoS) attacks to suppress human rights activists. For those who have not yet read Professor Coleman's book, this is not the type of hacking that Coding Freedom addresses. It more specifically examines the free and open source software (F/OSS) movement and explains how this movement privileges values of freedom, access to knowledge, and privacy. As Coleman writes:
"F/OSS is an ideal vehicle for examining how and when technological objects, such as source code, are invested with new liberal meanings, and with what consequences. By showing how developers incorporate legal ideals like free speech into the practices of everyday technical production, I trace the path by which older liberal ideals persist, albeit transformed, into the present." (p. 183)
Private corporations operating within free markets have created some of the most open and productive infrastructural components of the Internet, and human creativity and values of free expression can flourish in these environments. Furthermore, there are powerful corporations whose business models are predicated on free and open source software frameworks. But, in many areas of information policy, there are inherent and intractable conflicts between values of property and values of free expression. Coleman tells a convincing and empirically grounded story about how the F/OSS community sought to challenge the prevailing political economy of intellectual property law, create alternative modes of economic production, and produce software with productive potential for both economic and expressive liberty. Anyone examining citizen engagement in other areas of digital policy (e.g. online protests over the Stop Online Privacy Act) would be wise to emulate Coleman's methodological rigor and interdisciplinary insights into citizen engagement in shaping freedom in the digital public sphere.
**A special thanks to Professor Danielle Citron and Concurring Opinions for the invitation to participate in this symposium**
Laura DeNardis, M.Eng., Ph.D., is an Internet governance scholar, a Professor in the School of Communication at American University, and the author of The Global War for Internet Governance

September 19, 2013 at 2:14 pm
Posted in: Symposium (Coding Freedom), Technology, Uncategorized
Print This Post
No Comments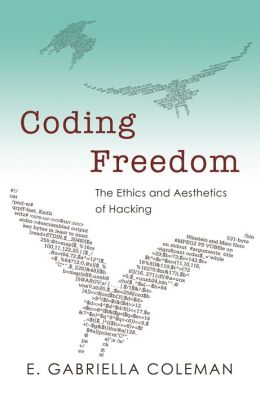 Gabriella Coleman's Coding Freedom is a beautifully written book, offering deep insight into communities of hackers. By immersing herself in the culture of free and open source software devotees, she helps us understand the motivations, goals, frustrations, and aesthetics of a frequently misunderstood movement. The stakes are high, both for those inside and outside the hacker community. Some want the term hacker to primarily denote playful creativity; others emphasize subversion of oppressive power centers; still others embrace an identity of unreasoned disruption.
Outsiders stray into such debates at their peril, and Coleman took significant risks to write the book. As an academic, she defied conventional anthropological career paths by launching an investigation of a digitally connected enclave within an advanced society.* As an observer, she risked that sub-subcultures would try to exact revenge on her for saying something they disagreed with. (It's not just the obvious targets who get hacked.) But the gambles have paid off, both within the academic community and in the broader ambit of Internet intellectuals.
Hackers are frequently misunderstood, both when praised and when damned. In the popular imagination, the computer hacker can pop up as a digital Bonnie or Clyde, fighting "the system" of opaque automation. On the other hand, former NSA Chief Michael Hayden wrote off hacker fans of Edward Snowden as "nihilists, anarchists, activists, Lulzsec, Anonymous, twentysomethings who haven't talked to the opposite sex in five or six years." The hero/villain narratives are easy to sell to Wired or Fox. Coleman gives us a much richer story.
Read the rest of this post »
September 16, 2013 at 9:40 am
Posted in: Intellectual Property, Privacy, Privacy (Electronic Surveillance), Symposium (Coding Freedom), Technology
Print This Post
One Comment
Why is the term "disruption" so popular nowadays? We rarely hear about a new social commitment to guarantee access to housing, health, or education. Instead, elite media features a parade of thinkers keen on "disrupting" old institutions. Freddie DeBoer has one perspective on their popularity:
Talk of social contracts is passé in an America obsessed with technocapitalist visions of a prosperous future. The yen for "disruption," an empty term for empty minds in empty people, makes traditional obstacles like social contracts suspect or downright pernicious. This has led to an embrace of proceduralism by those true believers who want an app economy to be the engine of capitalism. And such people rule the world.
The "disruption" proposed by thought leaders also appeals to those who think of economics as the king of social science, and methodological individualism as the only ontological orientation to rigorous inquiry:
[I]ndividualistic predilections give a cohesiveness and homogeneity to … new ideas and inventions, actively constructing and shaping the digital environment from which [Silicon Valley thought leaders] claim to draw their inspiration. The insistence on "disrupting" our social and environmental lives; the idea that the solutions inspired by and enabled by the Internet mark a clean break from historical patterns, a never-before-seen opportunity – these mean that the only lessons to learn from history are those of previous technological disruptions. The view of society as an institution-free network of autonomous individuals practicing free exchange makes the social sciences, with the exception of economics, irrelevant. What's left is engineering, neuroscience, an understanding of incentives (in the narrowly utilitarian sense): just right for those whose intellectual predispositions are to algorithms, design, and data structures.
The economy of internet intellectuals encourages endless reworking of algorithmic, design-, and data-based thinking. As Henry Farrell has observed, "While making your way up the hierarchy [of internet intellectuals], you are encouraged to buff the rough patches from your presentation again and again, sanding it down to a beautifully polished surface, which all too often does no more than reflect your audience's preconceptions back at them." The smiling faces at TED talks want to hear tried-and-true methods and 17-minute solutions. Woe to the skeptic who counsels there may not be any.
In the hands of a Cory Doctorow, we can see a disruption ethic of public spirited dissent. Unfortunately, the "disruptions" pursued by Silicon Valley giants (and their well-heeled consultants) often have little to do with challenging the biggest power centers in society. And why would they? As Farrell notes,
Read the rest of this post »
September 14, 2013 at 9:46 am
Posted in: Law and Inequality, Political Economy, Technology
Print This Post
3 Comments
Many have blamed American militarism on George W. Bush. Whether cast as cowboy, crusader, or dupe of the Angler, the ex-president was a convenient scapegoat. By 2008, voters felt comforted that neither the technocrat Obama nor the veteran McCain would recapitulate the tragedy of Iraq. And yet here we are, five years later, with both men uniting behind another "intervention."
With the Bush bogeyman gone, the new war drive raises deep questions about the US political system. The Syria proposal is so at odds with what the American people want, what the world appears to want, and what even many of its intended beneficiaries want, that the question arises: what does the Administration know that we don't? What gives them confidence that the US can accomplish its "three missions" in Syria? Andrew Bacevich puts the question plainly:
If you think back to 1980, and just sort of tick off the number of military enterprises that we have been engaged in that part of the world, large and small, you know, Beirut, Afghanistan, Iraq, Yemen, Somalia — and on and on, and ask yourself, 'What have we got done? What have we achieved? Is the region becoming more stable? Is it becoming more democratic? Are we enhancing America's standing in the eyes of the people of the Islamic world?' 'The answers are, 'No, no, and no.' So why, Mr. President, do you think that initiating yet another war in this protracted enterprise is going to produce a different outcome?
The other "big story" of the summer helps explain the hubris. If you had access to an intelligence apparatus as pervasive and expert as NSA/DIA/CIA/NGA et al., would you think you were missing anything? The lesson of history is that conflict is unpredictable, and can quickly spin out of control. But the dream of mass surveillance is mastery and control. Precrime, prewar, all manner of incipient evils: with enough anticipatory knowledge all can eventually be modulated away and conquered.
Read the rest of this post »
September 8, 2013 at 1:23 pm
Posted in: Military Law, Privacy, Privacy (National Security), Technology
Print This Post
7 Comments
I am so delighted to be guest blogging for Concurring Opinions this month and to be part of this exciting community.  This month, I will be blogging on various intersections of law, social norms, gender, sexuality, family, and work.  I have been researching some of these issues for my book project on Gender and Social Norms in Same-Sex and Different-Sex Marriage (contracted with NYU Press).  Although today's topic is not part of this book research, it takes up many of the concerns that animate my work.
Recently, a plastic surgery procedure that has gained popularity among South Koreans has gained some major media attention in the U.S.  The procedure, technically called Valentine anguloplasty and sometimes colloquially called a "smile lipt," is supposed to lift the outer corners of the lips into a smile, even when the putative smiler is not actually smiling.  According to a South Korean plastic surgery center promoting its smile procedure, people of Korean descent like myself have shorter mouths and lower mouth corners than "Westerners," which means that I and others similarly situated supposedly have a greater tendency to look like we're frowning.  "Perma-smile" to the rescue.
Considering the United States' status as a world leader in the consumption of plastic surgery, one would think that Valentine anguloplasty would hold some appeal, even to the blessedly long-mouthed.  But based on the American media reaction, what's been dubbed "joker lips surgery" is not likely to catch on any time soon.
Smile surgery has actually been around for decades and isn't just a recent invention of South Korean plastic surgeons.  The response to this latest supposed craze, though, is what interests me more than the procedure itself.  No, not many of us want to look like this.  But while the origins of this photo are murky, the hypocrisy of the reaction to South Korean women wanting to look smiley is clear.
What strikes me is how narrow the chasm is between the perma-smile of Valentine anguloplasty and the social norms that compel those of us not in South Korea, particularly women, to smile – a lot.  Psychologists Marianne LaFrance, Elizabeth Paluck, and Marvin Hecht found that women smile more than men, particularly when women and men think that they are being observed.  This effect corresponds with numerous studies with which LaFrance, Paluck, and Hecht engage concerning social expectations for women to smile and penalties imposed on men for smiling too much. Others have written cleverly about the common form of street harassment consisting of ordering women to smile.
Women pay the price of not smiling (or of the much-memed "bitchy resting face") on the street and in the workplace every day.  People like nice women.  And the smile is a proxy, although often a sloppy one, for that niceness.
For a woman to smile all the time, especially in the workplace, is — to borrow from Devon Carbado, Mitu Gulati, and Gowri Ramachandran – to perform "gender comfort," easing the way for women's presence.  What's already a treacherous climb for women up to leadership positions in firms and corporations is made even more difficult by the added load of having to be smiley and perky all the while.  Sociologist Arlie Hochschild has identified the strains posed by such "emotional labor," particularly for flight attendants expected to smile continuously to project concern, friendliness, and other emotions not necessarily felt all the time but considered necessary for the job.
We see the legal imperative and effect of the smiliness social norm historically and contemporaneously.  I recently watched the excellent PBS documentary Makers: Women Who Make America (2013), which reminded me of the 1950s expectation for those women living the post-war American Dream to be cheerful, smiley, and content.  Sixty years later, the norm persists.  Social expectations for women's comportment often influence their willingness to negotiate, to ask for more, to complain.
In the context of the workplace, the Lilly Ledbetter Fair Pay Act, setting the statute of limitations for a pay discrimination case from each new paycheck affected by the discriminatory action, is an important step in remedying discrimination of which a plaintiff may be unaware.  But it also importantly accounts for the social dimension of that unawareness.  When one is socialized to be nice, it is difficult to suspect wrongdoing, even if it occurs over years.
Despite advances like this, social science accounts of workplace dynamics, particularly in the context of negotiation continue to give pause.  While women suffer opportunity- and pay-wise from failures to negotiate, they also suffer when they do negotiate.  Hannah Riley Bowles, Linda Babcock, and Lei Lai demonstrate in their research that women are judged more harshly than men for initiating negotiations for higher compensation, with perceptions of "niceness" and "demandingness" explaining resistance to female negotiators.  In recognition of the threat posed by women seeking higher pay, one approach is Sheryl Sandberg's in Lean In, advising women negotiating pay to smile frequently.
This is all terribly depressing when I think of legal and social change.  We teach young women to be assertive, but they will likely be judged for being "agentic women."  When we think about women in the workplace, perhaps then it makes sense that some would try to create through facial alteration what many "Westerners" are able to achieve more easily without going under the knife and paying $2000 – a permanent smile and all that comes with it.  :)
September 7, 2013 at 9:03 am
Tags: Current Events, discrimination, employment discrimination, fair pay, gender, negotiation, plastic surgery, smile surgery, social norms, women in leadership Posted in: Culture, Current Events, Technology, Uncategorized
Print This Post
One Comment
Magazines like The Economist mock industrial policy while piling praise on the private sector. But the more one knows about the intertwining of state and market in health care, defense, telecommunications, energy, and banking, the less realistic any strict divide between "public" and "private" appears. Moreover, even the internet sector, that last bastion of venture capital and risk-taking, is more a creature of state intervention than market forces. As Mariana Mazzucato argues:
Whether an innovation will be a success is uncertain, and it can take longer than traditional banks or venture capitalists are willing to wait. In countries such as the United States, China, Singapore, and Denmark, the state has provided the kind of patient and long-term finance new technologies need to get off the ground.
Apple is a perfect example. In its early stages, the company received government cash support via a $500,000 small-business investment company grant. And every technology that makes the iPhone a smartphone owes its vision and funding to the state: the Internet, GPS, touch-screen displays, and even the voice-activated smartphone assistant Siri all received state cash. The U.S. Defense Advanced Research Projects Agency bankrolled the Internet, and the CIA and the military funded GPS. So, although the United States is sold to us as the model example of progress through private enterprise, innovation there has benefited from a very interventionist state.
VC's and other financiers exaggerated their role in promoting innovation in order to get capital gains tax breaks. And while they retreat ever further from taking risks on game-changing advances in productivity, the tax breaks endure, starving the state of the revenues it needs to continue subsidizing innovation. The California Ideology gradually undoes its own material foundations, but its adherents are unfazed. They are content to reap the benefits of past decades of government investment. From Silicon Valley to Wall Street, seed corn is the tax-cutters' favorite meal.
X-Posted: Madisonian.
September 6, 2013 at 7:10 pm
Posted in: Economic Analysis of Law, Innovation, Intellectual Property, Technology
Print This Post
14 Comments
Readers suggested potential penalties for improper gathering or misuse of surveillance data last month.  As revelations continue, Congressmen have recently proposed some new ideas:
Rep. Mike Fitzpatrick (R-Pa.) proposed legislation . . .  that would cut National Security Agency (NSA) funding if it violates new surveillance rules aimed at preventing broad data collection on millions of people.
Fitzpatrick has also offered language to restrict the term "relevant" when it comes to data collection.  On the one hand, it seems odd for Congress to micromanage a spy agency.  On the other hand, no one has adequately explained how present safeguards keep the integrated Information Sharing Environment from engaging in the harms catalogued here and here. So we're likely to see many blunt efforts to cut off its ability to collect and analyze data, even if data misuse is really the core problem.
August 22, 2013 at 9:44 am
Posted in: Criminal Law, Current Events, Google & Search Engines, Privacy, Privacy (Electronic Surveillance), Privacy (Law Enforcement), Privacy (National Security), Technology
Print This Post
No Comments
I recently posted a draft of my new article, The FTC and the New Common Law of Privacy (with Professor Woodrow Hartzog).
One of the great ironies about information privacy law is that the primary regulation of privacy in the United States has barely been studied in a scholarly way. Since the late 1990s, the Federal Trade Commission (FTC) has been enforcing companies' privacy policies through its authority to police unfair and deceptive trade practices. Despite more than fifteen years of FTC enforcement, there is no meaningful body of judicial decisions to show for it. The cases have nearly all resulted in settlement agreements. Nevertheless, companies look to these agreements to guide their privacy practices. Thus, in practice, FTC privacy jurisprudence has become the broadest and most influential regulating force on information privacy in the United States – more so than nearly any privacy statute and any common law tort.
In this article, we contend that the FTC's privacy jurisprudence is the functional equivalent to a body of common law, and we examine it as such. The article explores the following issues:
Why did the FTC, and not contract law, come to dominate the enforcement of privacy policies?
Why, despite more than 15 years of FTC enforcement, have there been hardly any resulting judicial decisions?
Why has FTC enforcement had such a profound effect on company behavior given the very small penalties?
Can FTC jurisprudence evolve into a comprehensive regulatory regime for privacy?
The claims we make in this article include:
The common view of FTC jurisprudence as thin — as merely enforcing privacy promises — is misguided. The FTC's privacy jurisprudence is actually quite thick, and it has come to serve as the functional equivalent to a body of common law.
The foundations exist in FTC jurisprudence to develop a robust privacy regulatory regime, one that focuses on consumer expectations of privacy, that extends far beyond privacy policies, and that involves substantive rules that exist independently from a company's privacy representations.
You can download the article draft here on SSRN.
August 20, 2013 at 12:02 pm
Posted in: Administrative Law, Articles and Books, Privacy (Consumer Privacy), Privacy (Electronic Surveillance), Privacy (ID Theft), Technology
Print This Post
No Comments
In my last post, I discussed how the commentary on Michael Simkovic and Frank McIntyre's "The Economic Value of a Law Degree" has illuminated a separate and worthwhile avenue for further research—namely, whether the presence of powerful gatekeepers who oversee the practice of law should make us confident that the value of the law degree will be relatively stable.
Most helpful in this regard has been Deborah Merritt's post regarding the impact of the typewriter on lawyer education requirements.  At the risk of putting words into her mouth, Merritt observed that the typewriter may have contributed to the decision of the New York bar to make attendance at a three-year law school a prerequisite to bar admission and, therefore, that S&M were too hasty in concluding that people misconceived the typewriter to be a threat to the value of the law degree.
My earlier post explained that we must be careful not to conflate structural changes in the law degree's value with structural changes in the credentials that one will need to become a lawyer.  By keeping the two separate, we can better understand how the gatekeepers to the industry might be able to insulate the value of the degree from exogenous forces.
In this second post, I'd like to offer some final observations on gatekeeping.  I begin with the acknowledgement that the effects of gatekeeping extend well beyond the population of degree holders, though S&M had perfectly valid reasons for focusing on that population.  Thereafter, I return to the relationship between gatekeeping and nostalgia, highlighting the strange role that the late Abe Lincoln played in the adoption of education requirements.  To finish up, I briefly explain how gatekeeping measures have long been—and will continue to be—a tempting tool for those with the power to wield them. Read the rest of this post »
August 7, 2013 at 1:35 am
Tags: Law School Posted in: Culture, Law Practice, Law School, Legal Ethics, Technology, Uncategorized
Print This Post
2 Comments
If only Detroit were a big bank, Treasury officials would be working round the clock this weekend to save it. Alas, this city is no Citi. It lacks a "winning business model" (like lobbying and bonuses for key federal officials). So municipal bankruptcy is on the horizon.
Detroit was chronically mismanaged, and the victim of unforgiving political geography. But the decline of jobs there is also a bellwether for the rest of the country. As Juan Cole observes,
This rise of [robotized manufacturing] violates the deal that the capitalists made with American consumers after the great Depression, which is that they would provide people with well-paying jobs and the workers in turn would buy the commodities the factories produced, in a cycle of consumerism. If the goods can be produced without many workers, and if the workers then end up suffering long-term unemployment (as Detroit does), then who will buy the consumer goods? Capitalism can survive one Detroit, but what if we are heading toward having quite a few of them?
July 20, 2013 at 7:48 am
Posted in: Bankruptcy, Economic Analysis of Law, Law and Inequality, Technology
Print This Post
5 Comments
Organ allocation always involves contestable values.  New technologies of regenerative medicine will raise similar concerns. Slate's Michael Bennett offers the following set of dilemmas at the intersection of cutting edge health care and finance:
Our society at large resembles . . . the arrangement of classes defining the experience of contemporary air travel. Will you be able to afford an economy class liver? Perhaps a business class model? Will organ markets reproduce the qualitative differences we've come to accept with commercial air classifications? Should organ performance track organ price? . . . If you're underwater on your liver mortgage, it's safe to assume you'll be hard-pressed to walk away.
As my co-blogger Deven Desai has argued, in a world of person-machine merger, "Simply saying you signed this contract, and we can do what we like is an error."  Neither organs nor their financing should be "subprime" in the world Bennett describes.
July 20, 2013 at 7:45 am
Posted in: Health Law, Technology
Print This Post
3 Comments